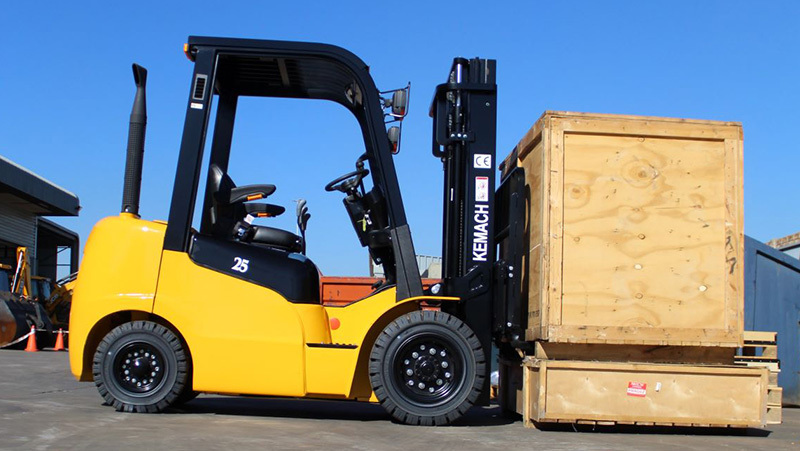 KEMACH has launched their new range of KEMACH Forklifts for the South African and Sub Saharan African markets, which will be promoted under their newly formed KEMACH Forklifts division.
Speaking at their March 2020 presentation, held at their offices in Boksburg, Gauteng, Frans van den Heever, General Manager for KEMACH Forklifts said "We at KEMACH are delighted to announce the KEMACH Forklift range, in partnership with Anhui HELI, which we believe will complement our existing quality earthmoving products. The KEMACH Forklift range offers our customers a South African forklift warranty first - a five years/12,000hr warranty on the complete machine, not just parts of the machine".
The KEMACH range of forklifts have specified Japanese engines, Heli built ZF transmissions and robotically manufactured chassis, ensuring premium brand quality at very competitive pricing. "The range comprises from a walk-behind powered pallet jack up to 45ton container handling units, enabling us to compete in all sectors of the market. KEMACH has a national footprint of 11 branches and 8x sub-dealers across South Africa, giving us the biggest footprint in the materials handling industry when it comes to service-ability and guaranteeing uptime for our customers" said van den Heever.
The construction industry contributes 4% of the South African GDP and the forklift industry taps into more than 80% of the markets that form the GDP of South Africa, so we are confident and optimistic about our ability to successfully penetrate the materials handling markets, explained van den Heever.
The supplier agreement between KEMACH Forklift and Anhui HELI was formed in January2020. Anhui HELI is the biggest forklift manufacturer in China and complies with all European standards as well as being ISO approved.
Local Input
The forklifts will offer customers the lowest cost of ownership over the lifetime of the machine due to its reliability and competitive pricing. Local support features include aftermarket suppliers for battery and charger supplies, forklift attachments and management systems.
Driver training and monitoring through KEMACH's forklift management system is also available.
Stock forklift machines can be delivered within two weeks, while non-stock machines can be delivered from the factory within 10-12 weeks. KEMACH Forklift has a large local stock holding at their off-site stock yard.