Crucial for infrastructure and other construction projects, motor graders combine precision finishing and the ability to move and mix large amounts of material – when driven by the right operator, though machine control is also making advances.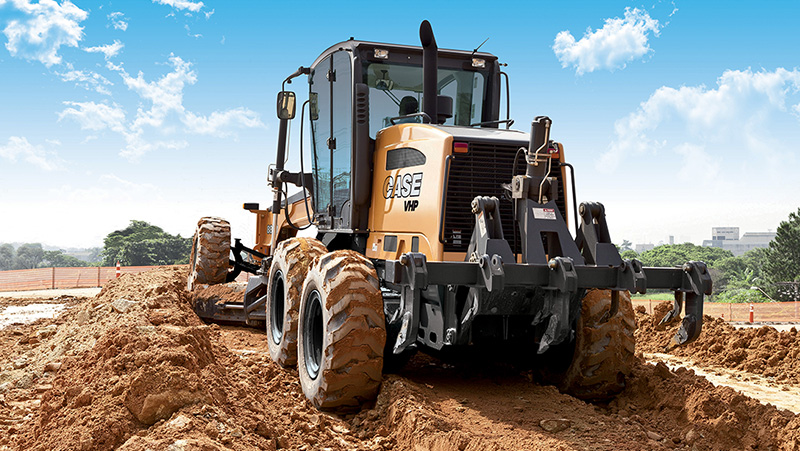 'The motor grader is one of the most versatile earth-moving machines in use today. Its weight, horsepower, wide range of attachments and manoeuvrability allow it to be used in a diverse set of applications," says Yaroslav Chechik, Product Application Specialist at Caterpillar. Outside of construction, in a quarry-type environment, proper use of a motor grader for road maintenance affects the productivity of the whole site, he adds.
But getting the most from a grader requires top-notch operators. Across the entire range of earth-moving machines, motor graders are among the most difficult to drive, especially for the final cut. Proper frame articulation and wheel lean, correct setting of the linkbar (hole selection), and mouldboard positioning are some of the skills that allow a trained operator to achieve the best productivity.
The correct selection of tools – cutting edge, tyres and so forth – for job-site conditions is also critical. "The combination of both, a trained operator and the right selection of tools together with a proper machine maintenance programme, allows the machine to be kept in good condition, improving uptime and therefore productivity," Chechik says.
That's why skilled motor grader operators can command high incomes – in South Africa, a final-level operator who can grade down to 1cm accuracy can earn as much as 30,000 rand ($1,784) a month, notes Zane Barnard, a product specialist at Case Construction Equipment. The value they bring to a business means contractors want to hold on to their highly experienced operators.
However, the development of automation technologies is radically improving the effective abilities of less skilled operators. On John Deere graders, automated cross-slope comes as a standard, says Grant Van Tine, Solutions Marketing Manager, John Deere.
"Automated cross-slope simplifies holding a consistent slope by reducing operation to a single lever. Cross-slope not only helps new operators get up to speed quickly, but also helps veteran operators become more proficient."
Motor graders are widely used for construction projects.
Other automation features on John Deere graders include auto-articulation, combining front steering and rear articulation; blade flip, which allows the operator to automatically rotate the blade to a set position without holding the control at the end of a pass; and machine presets, which allow the operator to activate multiple preset functions by pressing a single button.
When it comes to grade control the John Deere graders are designed with an open architecture, meaning the customer can choose their preferred system, says Van Tine. Case CE also has open architecture.
Generally speaking, machine control can allow a moderately skilled grader operator to operate a machine with the precision of a final-level operator, says Barnard, resulting in a dramatic jump in productivity.
Caterpillar offers various grade control solutions from the factory, from the basic Grade Control Ready option for Cat K series motor graders up to 2D Grade Control Cross Slope and 3D Mastless GPS system for machines equipped with the joystick, says Chechik. In addition, Cat Cross Slope automates one side of the mouldboard to follow the other, which is controlled by the operator and automatically maintains the selected cross slope percentage level. "This system saves up to 40% in material for the same length of road, compared to manual control. This translates into savings in material, machine wear and fuel consumption," he says.
At the most basic level, the main advantage of grade control is that fewer machine passes are needed to complete a job. This means greater productivity and lower fuel and running costs. There are also safety advantages, such as fewer workers on-site, since it eliminates the need for grade checkers; and the resale value of a machine with integrated grade control is higher, says Chechik.
Automation and machine control can result in improved productivity.
Nevertheless, sophisticated machine control technology is not widely used in sub-Saharan Africa, partly since the degree of accuracy required differs significantly between sites. For benchmark projects such as an airport runway, stadium surface or infrastructure such as rail, contractors look for the highest levels of accuracy and may want to use machine control, while for other projects the requirements are less stringent.
However, the technology pays for itself over time, says Van Tine. "Whether it's using cross-slope or a 3D fully automated system, contractors will see a return on the investment as this technology improves productivity and efficiency by enabling operators to get to grade faster with greater accuracy."
Caterpillar recently launched a 3D mastless system. "Operators were asking for improved visibility, and job-site managers for more safety features; and with no GPS mast, there is no damage risk. In addition, the integrated design is less conspicuous on job-sites," says Chechik. Currently, mastless Cat Grade with 3D can be retrofitted on joystick-controlled 140, 150 and 160 models in Africa.
All in the hand
The motor grader control set-up is an important aspect of the operator experience. John Deere offers three types of control styles – traditional mechanical 'antler rack' controls, armrest mounted fingertip controls and dual joystick controls – while each style include a steering wheel. "In sub-Saharan Africa, there is still a strong preference for the traditional mechanical antler rack controls, due to their simplicity and operators' familiarity with this style from experience on previous machines," says Van Tine. "However, the beauty of fingertip controls is they are arranged in the industry standard pattern on each side of the steering wheel, so adapting from traditional controls to fingertip controls is intuitive for operators."
Case CE offers piano control levers on its three models – the 845B, 865B and 885B – the configuration which operators in Africa and the Middle East are most familiar with, notes Barnard. "The machine is quite nicely set up. We've got a large and comfortable cab that gives the operator great visibility on to the mouldboard and the wider site so he can get his accuracy right."
Key features of the Case CE B-series graders include a heavy duty boxed frame design for the A-frame drawbar, supporting the circle with a wide stance, increasing the life of the circle and the drawbar components; externally driven circle teeth that are insensitive to shocks, are easier to clean and provide a larger contact area to avoid component wear and for greater leverage when turning the blade under load; and a multiradius blade to allow more efficient and continuous cutting, mixing and rolling. "We've given the machine quite a bit of horsepower that allows us now to get the Newton metres up and get the machine rolling nicely," says Barnard.
John Deere motor graders are high horsepower, and its 622, 672, 772 and 872 models feature six-wheel drive, enabling operators to return to the job sooner after inclement weather and to work through poor ground conditions where a traditional tandem drive grader may suffice, says Van Tine. "Additionally, six-wheel drive is excellent for slope work and ditches, and in some cases can replace the need for a second machine like a crawler dozer because of the grader's ability to handle the slopes. Automatic differential lock delivers additional tractive effort by engaging when travelling straight."
Overall, the main utilisation factors in the African markets are ease of operation and repair, as well as high performance and the capability to move big loads of material, making the Cat 140K and Cat 140 GC popular machines within its range, says Chechik. "If the requirement is the highest productivity with a machine used daily and for long hours, Cat performance models that offer the highest performance in class are the best solution. On the other hand, if a customer's prime consideration is lower owning costs, then our standard offering such as the 140 GC would meet that requirement."