Intelligent planning and utilisation of tower cranes on a project can be an important factor in allowing work to be completed on-time or even ahead of schedule.
With tower cranes the pulse of any large construction site, Middle East markets have taken a hit due to the pandemic and the resulting economic slowdown, leading to more supply than demand. "This leads to lower rates and aggressive competition. After a unique year with the pandemic, it is rumoured that the GCC will look to inject significant investments to help the economy recover. If that is the case, it will be much needed," says Nawar Al Zahlawi, Business Development Manager at NFT Specialized in Tower Cranes LLC.
The largest crane rental company in the Middle East, NFT also has a large global footprint, with operations in Europe and the Far East – and that geographical diversification helps.
"In Europe, our business is on a smaller scale. However, demand is unexpectedly stable. Manufacturers had reduced workforce and production capabilities because of the pandemic, so [time for] deliveries are quite long and output isn't at the required level. Fortunately, NFT purchases equipment ahead of time and stocks them in our yard in Belgium to be able to have an advantage with quick delivery," says Al Zahlawi.
With NFT as the exclusive GCC Potain distributor, Manitowoc has released a number of new models in recent months, including a new self-erection model in the very successful IGO T line, and a new topless crane, the MDT 489. It has a free standing height of 80m and is available in two variants – the M20, with maximum lift weight of 20 tonnes, and the M25 (25 tonnes).
Additionally, "In our UK operations, we are quite pleased to have a couple of hydraulic luffers in the Potain range which offer reduced out-of-service radii. The MRH 175 is a staple in our offering over there, and MRH 125 allows us to approach projects we could not before," says Al Zahlawi.
Despite slow market conditions, plenty of landmark projects are underway, many requiring specialist solutions. Major NFT projects include a waste-to-energy plant in Dubai, a new terminal building in Bangladesh, a huge infra project in Kuwait and the Hinckley power station in the UK, the largest in Europe. In northern France, NFT has supplied 16 travelling 32-tonne luffing Potain MR 608 tower cranes to help with construction of 71 gravity concrete bases to be cast in the sea to support the installation of wind farms.
"At the NFT head office, our technical department and commercial team always work with the client to study their drawings and recommend the ideal tower crane solution from a safety perspective and efficiency, and support them with the foundation design," explains Al Zahlawi. "Clients are not always aware of the maximum jib available, which sometimes gives them the assumption that they need more cranes on-site, which means more foundation, more generator, more accessories and more costs overall."
One example is using cranes on a travelling base, to cover a larger area with fewer cranes. Another is using internal climbing tower cranes on high-rise projects, rather than the traditional external cranes with bracings – this saves money on masts, frames and tie-ins, as well as time.
Quality solution
Founded in 1991 by three brothers from the entrepreneurial Chamamit family, Modern Emirates Heavy Cranes LLC (MEHC) started as a crane trading company before branching out into leasing, servicing, design and complex project implementation. MEHC currently operates a 250-strong tower crane fleet, as well as offering hoists, heavy equipment, spare parts and other associated services, including operator familairisation training, says Eamonn Glover, MEHC Managing Director.
Over the years, MEHC has invested heavily in upgrading the capacity and technology of its tower crane fleet, which today consists of Liebherr cranes, in addition to Potain, Terex Comedil and Zoomlion. The fleet ranges from 6 to 40 tonnes capacity, while Liebherr's Litronic crane management system is the centrepiece for precise and reliable operation, says Glover.
"The system empowers the operator to efficiently control the crane and to optimise handling. Crane operators need to stay informed about the crane's and site's operating parameters to perform their duty safely and efficiently. The EMS [electronic monitoring system] helps keep an overview of all relevant aspects on site even in difficult conditions, ensuring the tower crane works at the limit of its lifting capacity for the shortest time," he explains.
The system also enables up to 20% additional power for heavy loads at the press of a button while automatically reducing the permissible speed under this maximum load mode to avoid mishandling and ensure sound crane operation.
The most popular models are saddle jib cranes in a variable range of heights and jib configurations, "making them extremely versatile for the majority of building projects".
They can be supplied on three types of fixings: foundation anchors, generally embedded into the raft or isolated foundations; static undercarriages; or, on specific occasions, travelling undercarriage.
With the market especially price-conscious, assisting companies at tender stage can result in more cost-effective plans. "Hiring a tower crane is about much more than obtaining a simple quote," says Glover. "The type of tower crane you hire can have a significant impact on build time and budgets, therefore a little extra knowledge can save construction teams money and time. We always recommend our clients to involve us early-on to assist them with the most efficient project planning."
Contractors need to balance the extra costs of additional units versus the potential costs of a project delay if there isn't sufficient lift capacity. One project on which the client was shown the need to install an additional crane was finished several months ahead of schedule – this would likely not have been possible without the appropriate tower crane configuration, believes Glover.
"A lot of time can be spent meeting and working through clients' drawings to find the best lifting solutions and positions. Most jobs are quoted on paperwork that only includes overall heights and weights. The position of the cranes in light of the project circulation and construction program in addition to several other aspects of the construction site will have a big impact on overall costs."

With cranes on many projects powered by portable gensets rather than mains power, genset size and the amount of diesel are additional cost considerations as well. One option is to use larger generators to provide power to multiple infrastructure, whether tower cranes or site offices, but Glover's strong preference is to use a single genset to power each tower crane, for redundancy and to avoid a situation where a single genset failure affects multiple assets and site productivity, as well as a crane's electronics being damaged by a surge or outage.
Safety is MEHC's top priority, with all operations carried out in accordance with the BS 7121-5:2019 code of practice for the safe use of tower cranes and in line with local legislation, says Glover. The company provides highly trained operators who are able to respond appropriately to any scenario. Perhaps the most important consideration is the site plan and the crane location. All factors that affect safe operation must be taken into account – such as crane foundations, whether it needs tie supports to the structure or is on a freestanding configuration. A crane must also be able to weathervane freely, without obstruction, in line with manufacturer recommendations.
All MEHC equipment is serviced, maintained and routinely assessed by its maintenance team on a monthly basis to ensure compliance, and all equipment placed on rental is in addition inspected by a third-party accredited organisation "in conjunction with the appropriate legislation" prior to handing the tower crane or hoist over to the client, states Glover. The appropriate certificates and records are held within the operations department and updated as required.
Electronic anti-collision systems may be required on projects with overlapping work areas for tower cranes - MEHC uses systems from AMCS technologies, a French supplier. They perform real-time, 3D calculations to estimate distances between different crane elements and their movement speeds, with adjustable safety coverage for all machine parts including jib, counter jib, mast, tower head, tie bars and hoist rope, explains Glover.
"The system is designed to ensure the safe execution of orders to manage machines in interference, by slowing down or completely immobilising a crane at a pre-set distance from the obstacle. The safe system of work for a tower crane should not rely on the use of electronic aids as the sole means of avoiding collisions. They should be used as a secondary aid to assist the crane operator and not intended as a substitute for the sound judgement of the crane operator. Rather, they are designed to provide as many indications as possible, to enable the operator to adjust his behaviour in accordance with the situation or hazard encountered."
Specialist manufacturer
Based in Reggio Emilia in northern Italy, tower crane manufacturer ENG Cranes produces a standard range of tower cranes, alongside customised cranes. "We like to advertise ourselves as tailors in this business, because most of the cranes we make are modified or are requests from our customers, and then of course become standard in the catalogue," says Export Manager Massimo De Lazzero. The standard range features flat-top and saddle jib cranes, as well as hydraulic derricks, stiff-leg derricks and hydraulic luffers.
"With our standard range we can cover most requests from a job-site, but what we have seen in the last years is that a lot of customers are looking for a customised crane to fit to a special need, and are looking for someone to build them such a crane," explains De Lazzero, noting that it's not easy for larger manufacturers to divert from their standard production lines.
"We are a relatively small company, so for us it's easier. Over the past years, we have been approached by a number of customers saying, 'We want a crane made in this way' or 'We have this special need, can you design a crane for us?' And when it is technically possible, we always say yes."
Most clients seeking a customized crane are in the construction sector, and ENG Cranes has sold its cranes worldwide – to Australia, North America, Europe, Middle East and other markets as well. Their output is typically around 30-40 cranes per year. Recently, that output included two EDKH205 30 tonne hydraulic derrick cranes which were sold to NFT Specialized in Tower Cranes (the rental company plans to initially deploy them in its fleet in Hong Kong).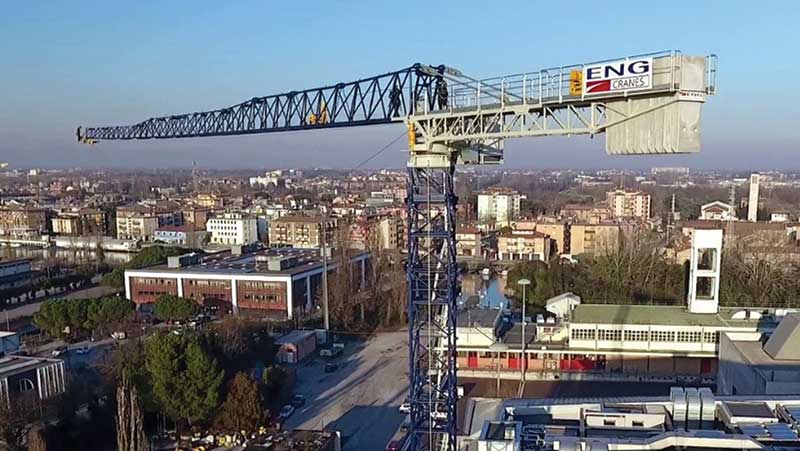 ENG Cranes produces a standard range of cranes along with customised cranes according to customer request.
These can be used on projects to dismantle the main tower crane, but can also be installed on a tower project and used without counterweights. "Their slewing radius is really small, so they can be used on a tight site where even a standard luffing job crane cannot be used because of oversailing restrictions."
The standard hydraulic derrick crane range has three models, from the EDKH 125 (maximum load 18 tonnes) to the EDKH 205 (maximum jib length of 41m and maximum lift weight of 30 tonnes, max load at tip 2.3 tonnes).
Their derrick EDKH and Hydraulic luffers EDL series have the smallest counter-jib in the crane market, meaning they can be put to use even on extremely tight sites, he says.
The EDL Series hybrid cranes resemble luffing jib cranes without a significant counterjib, with the counterweight stacked on frame behind the cabin. They can operate in flat mode, like a flat-top, or in luffing mode. The EDL 210 is the largest model, with a 56.3m jib length and maximum load of 12 tonnes (max load at max jib length is around 2.43 tonnes).
Completing the catalogue range, ENG Cranes also produces self-erecting cranes, the ESH models from 27 metres to 40 metres, with 4 tonnes of max load.
The normal production cycle for ENG Cranes is around 8-16 weeks and cranes are built according to all relevant European standards. "Our philosophy is to design the crane - especially with regards to the electronics - as simply as possible. We have seen that around the world there is a lack of skilled technicians, so we want the cranes to be as simple to service as possible," says De Lazzero. Their cranes also can be repaired using generic common spare parts available all around the world, he added.