Mohamed Abdulrahman Al-Bahar, Caterpillar's official dealer in the UAE, Bahrain, Oman, Kuwait, and Qatar, recently launched two new Caterpillar machines. Plant & Equipment has more details.
Caterpillar is globally recognised as a premium, reliable, quality brand with a get-it-done attitude no matter the terrain. It is the top brand of choice in the construction industry globally and in the UAE and region. When you buy a Cat machine you buy into the brand's exemplary and thoroughly responsive after sales support which in the UAE is also Mohamed Abdulrahman Al-Bahar.
Factors of Success
The new range - the 950 GC and 330 GC - was launched at Al-Bahar's headquarters in Sharjah on a crisp November morning. These new machines are termed as 'game changers' in the current construction industry equipment landscape. Why? The answer to this is what the team at Al-Bahar was on hand to explain.
Samer Ismail, Product Manager, Earthmoving and Excavation, has been in his role for almost two decades and knows the changes and nuances of the market very well. "Our policy at Al-Bahar and at Caterpillar has always been to work very closely with our customer. We need to know what the customer wants, how their business is changing, how can we help them adapt and move forward," he says. "Being completely client focused, we do regular, detailed surveys with our customers and the market in general, to understand customer and market needs. Once we collect the customer's viewpoint, which industry will the machine be used in, this info is transferred to the engineering team at Caterpillar who then customise a machine for the client. This is how we can provide the right machine model to different customers."

Samer Ismail, Product Manager at Al-Bahar.
"The market is growing significantly in the region, and 2019 was excellent in terms of improved market share."
Official Product Launch
For the new GC machines, Ismail says: "The 330 GC and 950 GC models are known for offering convenient acquisition and operating costs. They are economical with an attractive total cost of ownership. They are ideal for customers looking to move more material in less time, at a lower cost per tonne, for a faster return on equipment investment."
The 330 GC is a smart choice for operations where high reliability and low-cost-per-hour performance are priorities. It is designed for quarries, sand and gravel pits, coal operation and construction job-sites. The 950 GC is also an exceptional choice for governmental bids, offering agencies a well-designed, durable machine that fits the budget.
Cat's most prominent unique selling point has always been and continues to be a gradual reduction in operating cost and top of the line technology implementation. "This is the main reason why when you consider all cases, the Cat machine will always be more expensive on all fronts," says Mohammad Daas, Segment Sales Manager Key Accounts at Al-Bahar. "However, their proven promise remains that in the long run the operational cost will reduce for the owner. The biggest indicator of this is the fact that the engine on these GC models have been standardised, ensuring less maintenance and acquisition of spares overheads in the long run."

CAT 330 GC.
Fuel Efficiency
Economical fuel consumption in the 330 GC is a priority. It has two work modes to handle fuel consumption optimally - Power mode and Smart mode. "Power mode works best in a maximum productivity scenario with high demand applications such as truck loading and trenching. Whereas Smart mode automatically matches the speed of the engine and hydraulic power to provide the highest fuel efficiency in any application," says Daas. The owner can select the mode of choice for the machine beforehand for their operators to use the machine optimally. Operators also have the choice to set a preferred mode using their ID.
On the 950 GC, fuel economy is in-built and integrated on all work mode functions. For example: load sensing hydraulics produce flow and pressure for the implement system upon demand and only in amounts necessary to perform the needed work functions. This state of the art system results in low fuel consumption. Then the Cat C7.1 engine also has the Idle Management System (EIMS) which minimises fuel consumption by reducing engine rpm after a specified amount of idle time. Also, another function in the 950 GC is the On-Demand Fan. This electronically controlled, hydraulically driven variable speed fan adjusts to meet the varying cooling requirements of the machine. This results in a reduced average fan speed lowering fuel consumption, noise levels and radiator plugging.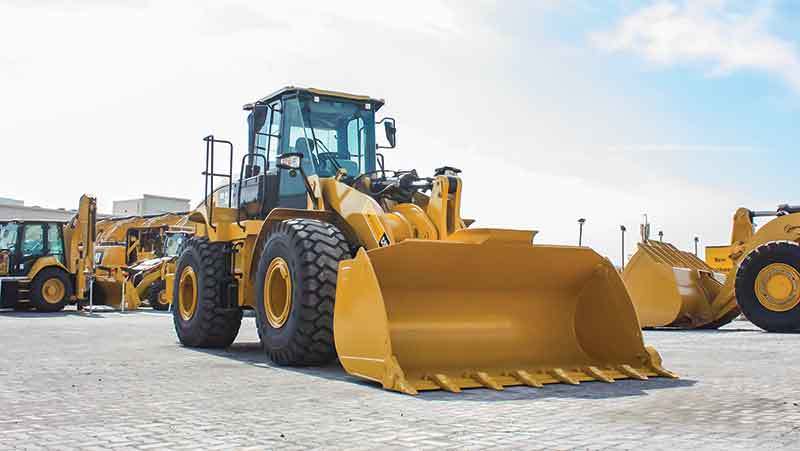 CAT 950 GC.
Sales Solutions
Al-Bahar provides training for operators free of cost for every machine delivery on a regular basis to ensure the operator is thorough with all the features. As the new cabs have all round visibility, touchscreen monitors, new seat and console, keyless push start among other sophisticated features.
Besides operator training, Al-Bahar offers an extensive array of after sales solutions helping customers enhance every aspect of their operation, enabling them to work faster and more efficiently. "Our support solutions include repairs, services, and rebuilds with Cat® Genuine Parts. We have dedicated teams providing consultancy for our customers on how to achieve the maximum productivity while reducing owning and operating costs. Our team helps our customers through site visits and equipment inspections, supporting their needs on different aspects whether they are customer service agreements or tailored solution offerings based on their specific needs. We keep most of the required parts available in our parts inventory, and our customers can access their price and availability 24 X 7 through our online channel Parts.cat.com," adds Ismail.
Al-Bahar had a great 2019. "The market is growing significantly in the region and 2019 was excellent in terms of improved market share. We are the leader in our market segment with 30 percent market share which is an increase of more than five percent thanks to our customers' strong loyalty and these GC machines will help us augment these numbers moving forward," says Ismail. The UAE is Al-Bahar's biggest market, and with the release of new projects, the demand continues to increase.