In 2020, HAMM is represented on the market with a powerful and versatile range of compaction technology for earthwork. At CONEXPO/CON-AGG 2020, the manufacturer will underline this fact with a wide range of exhibits from the field of earthwork for diverse applications.
New additions include the C compactors for earthwork and a new generation of dozer blades. HAMM is also presenting a compaction measurement solution for oscillation in VIO compactors. The HAMM product range for earthwork currently includes over 60 compactors divided into standard weight classes from 5 t/11,000 lbs to 25 t/55,700 lbs. The working widths range between 1.37 m/54 in and 2.22 m/88 in. HAMM thus covers the classic areas of application in earthwork. In addition, the German manufacturer's range includes numerous specialized machines such as the VC compactor, and options such as a number of dozer blade variants and a vibration plate. For markets in North and South America, HAMM supplies rollers in configurations that meet local demand as well as the applicable emission guidelines.
New synergies for the construction industry
With its comprehensive product portfolio, HAMM also complements the John Deere & Company range perfectly. The merger between the Wirtgen Group – with HAMM as a compaction specialist – and John Deere & Company creates attractive synergies for the construction industry, especially regarding earthwork. This is evident, for instance, in the compaction of soil and in soil stabilization, where both graders and rollers are essential for creating a solid, even ground level or subbase. Further added value results from collaboration in telematics. The Wirtgen Group and John Deere have many years of experience in this sector and are trendsetters in their market segments. In the future, both companies will pool their respective expertise in this area, too.
Compactors for every requirement
At CONEXPO/CON-AGG 2020, HAMM is presenting two different compactor series: The H CompactLine with models up to 7 t/15,500 lbs and the H series with models between 10 t/22,000 lbs and 25 t/55,700 lbs. All HAMM compactors have 3-point articulation for even weight distribution and enormous driving stability. They also stand out for their ease of operation, excellent visibility, extremely high level of safety, enormous productivity, wealth of equipment variants and tried and tested options.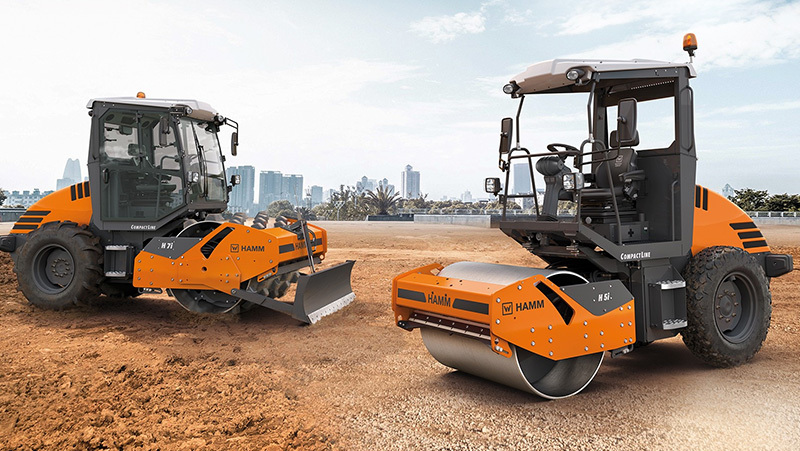 H CompactLine series: Impressively compact
The smaller compactors in the H CompactLine are ideal for small or confined construction sites. HAMM is the only manufacturer to offer models with VIO drums, in addition to the usual equipment variants. Accordingly, the rollers can compact with oscillation or vibration.
The compactors in the H CompactLine with weights between 5 t/11,000 lbs and 7 t/15,500 lbs (drum widths 1.37 m/53.9 in or 1.68 m/66.1 in) feature an extremely compact design, making them ideal for small or confined construction sites. The H 7i is particularly worthy of mention: Measuring approx. 4.4 m/173.6 in, it is the world's shortest compactor in this weight class. These compactors offer excellent ground clearance thanks to their traction drive using wheel motors, while the design of the front section enables a large slope angle. Added to this is the remarkable climbing ability of the compactors H 5i/H 7i of up to 60%. The compactors are exceptionally versatile owing to the numerous options. Customers can choose between smooth and padfoot drums as well as two-part padfoot shells. The H 7i is also available with a VIO drum, capable of compacting with either vibration or oscillation. A type H 7i VIO compactor of will be available for viewing at CONEXPO/CON-AGG 2020.
H series: For the big earthwork jobs
The H series compactors cover a huge spectrum of earthwork applications. The machines are available with weights from 11 t/24,250 lbs to 25 t/55,700 lbs, with smooth or padfoot drums. Thanks to the Easy Drive operating concept, all models are exceptionally easy to operate and comfortable. In addition, HAMM is the only manufacturer in the world to offer a VIO drum for compactors in this class. Accordingly, these machines can compact with oscillation or vibration as desired. Another outstanding characteristic of the H series compactors is their high linear load. Added to this is the large slope angle and enormous climbing ability that allow these compactors to work effectively even on slopes of up to 60%. Furthermore, there are numerous options for them, including padfoot segments, vibration plates and dozer blades.
C compactors: For tough jobs
Among the innovations from HAMM at CONEXPO/CON-AGG 2020 are the "C models" for earthwork. They are equipped with a reinforced hydrostatic drive and deliver up to 30% more torque. This means that their traction and climbing ability are even better than that of the standard models, enabling them to tackle inclines in excess of 60%. These models are equipped to deal with heavy earthwork, landfill construction and the compaction of cohesive soils. But they are also economical: Fuel consumption in the C models is almost identical to that in models without reinforced drives because all rollers have the same diesel engine. The high level of torque is also impressive when using the dozer blade. The H 20i C P compactor will also be shown at CONEXPO/CON-AGG 2020. HAMM is presenting this machine in the 20 t class with a dozer blade as well as a remote control system that allows access to all of the functions. HAMM thus allows compaction in critical areas without the presence of an operator in the roller.
New: Compactors with the "C"
HAMM compactors with the letter "C" in their name are new – this is the H 20i C. With a more powerful drive and other heavy-duty features, these models are particularly well-suited to the compaction of difficult, cohesive soils.
Distribution and compaction: New dozer blades for compactors
Another HAMM innovation at CONEXPO/CON-AGG 2020 are the dozer blades for compactors. They are available in two variants for models in the H series, depending on the drum width. The geometry of the new dozer blades allows more material to be moved and distributed than before, while special skid shoes prevent them from digging into the ground. In addition, the patented high-visibility cross member provides an unobstructed view of the area in front of the dozer blade. Very important for the quality of the work is the fact that the dozer blade can be controlled quickly and extremely sensitively thanks to the proportional valve used. The dozer blade is particularly suited to landfill work.
HAMM Compaction Meter VIO: A compaction meter for vibration and oscillation
With the new VIO compaction meter, HAMM compactors will be able to measure compaction even in oscillation mode in the future. HAMM has thus set a new milestone in the area of compaction with oscillation. Using the HAMM Compaction Meter VIO, the benefits of comprehensive compaction control (CCC) are now available in applications with oscillation and the passes can be documented in a traceable manner. The system is already available for the compactors H 7i VIO (H CompactLine) and H 13i VIO (H series).
Vibration compactors: Rock crushing and compacting
HAMM's range includes a separate series for especially challenging jobs: the VC compactors. They crush and compact rock in a single operation. These compactors weighing 25 t/55,700 lbs are manufactured on the basis of the H 25i model and are outfitted as heavy-duty machines. Their drum is fitted with 150 tool holders. They can hold cutting tools of the type also used in mining. The vibrating drum creates extremely large point loads on the cutting tools to crush the rock while the ground is being compacted. To hold the cutting tools, the VC compactors use a tool changing system which can be fitted with special padfoot inserts in addition to the cutting tools. This enables the machines to compact even particularly abrasive, cohesive soils very efficiently.
VC compactors: Real all-rounders
The area of application extends from crushing and compacting rock to track laying in quarries and compaction with padfoot inserts.
HCQ Navigator: Everything under control
Over ten years ago, HAMM introduced the HCQ Navigator to satisfy the most demanding requirements in asphalt construction and earthwork, and has continued to develop it ever since. The modular system for efficient compaction monitoring and documentation can be used in HAMM earthwork and asphalt rollers. During compaction, it continuously records various data from the compaction process. At the same time, a DGNSS receiver determines the roller's position. The HCQ Navigator combines the process and positional information and depicts it graphically in the driver's cab. A number of rollers may also be interconnected via WLAN. The result: Roller drivers are able to see the progress of compaction in real time in the roller. This information enables them to achieve extremely homogeneous compaction – even on large or irregularly shaped areas. A loss of quality owing to over- or undercompaction is now a thing of the past.
Compaction data worldwide in real time with WITOS HCQ
HAMM goes one step further with WITOS HCQ, a module for online connection of the HCQ Navigator: Data is transmitted wirelessly from the roller to the WITOS portal of the WIRTGEN GROUP on a server. From there, authorized persons such as construction supervisors or public officials can view and download the data. This provides information about the compaction process in real time in a secure domain. Construction progress can thus be monitored even on remote construction sites. This in turn brings savings in travel time and costs and enables quality improvements to be achieved through timely interventions. WITOS HCQ also greatly simplifies data back-ups since the project data can be conveniently saved for subsequent analysis and documentation purposes from the WITOS portal. The data format meets all of the VETA requirements.