KUWAIT
Project: Al Zour Refinery
Value: USD 15,000,000,000
Client: Kuwait National Petroleum Company
Website: www.knpc.com.kw
Al-Zour Refinery project (ZOR), is an upcoming refinery complex located approximately 90km south of Kuwait. It will be one of the biggest refineries in the world upon commissioning in 2019.
It will primarily supply 225,000 barrels a day of low-sulphur fuel oil (LSFO) to local power plants besides producing jet fuel, kerosene and naphtha feedstock for petrochemical plants. The cost of the new 615,000 barrels-per-day Al Zour refinery is estimated to be around $15 billion. The Kuwait Integrated Petroleum Industries Company (KIPIC), a subsidiary of Kuwait Petroleum Corporation, will operate the refinery, petrochemicals and LNG import operations at the Al-Zour refinery project. The new refinery is designed to process 615,000 barrels a day (bpd) of light Kuwait export crude (KEC), or 535,000 barrels a day of mixed heavy crudes.
Fluor's joint venture (JV) COOEC-Fluor Heavy Industries (COOEC-Fluor) fabrication yard in China has completed the pipe spool fabrication for the Al-Zour project in Kuwait. To achieve the completion of the fabrication work, COOEC-Fluor delivered more than 95,000 pipe spools by fabricating 337,000 linear meters of carbon, alloy, and stainless-steel pipe.
---
SAUDI ARABIA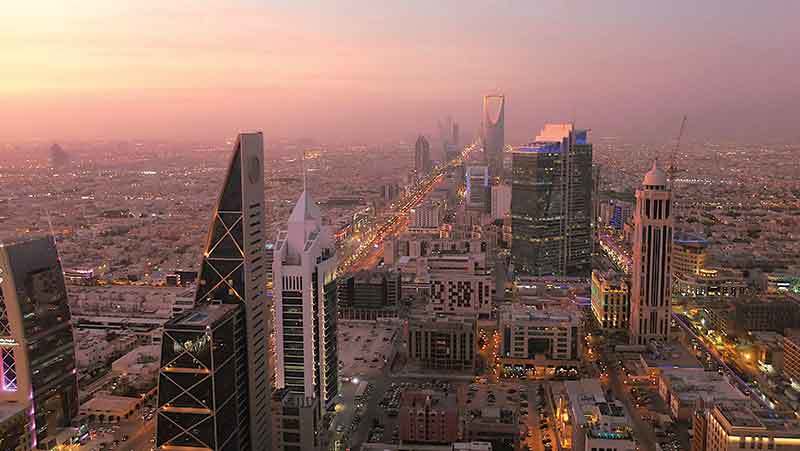 Project: Urban Mega-project in Riyadh
Value: USD 6,400,000,000
Client: ARADA
Website: www.arada.com
Sharjah-based real estate developer Arada is planning to launch an urban $6.4 billion mega-project in Riyadh, similar to its Aljada development in Sharjah, UAE, in the first quarter of 2020. The mega project will combine entertainment, residential, commercial and sports components. Further details about the project will be revealed in the first quarter of 2020. Currently, 12 percent of Arada property buyers in its Sharjah projects are from Saudi Arabia. The developer expects the number of Saudi buyers to increase after it opens its first sales office in Riyadh in December 2019.
---
KUWAIT
Project: Kuwait International Airport New Terminal
Value: USD 1,400,000,000
Client: Directorate General of Civil Aviation
Website: www.dgca.gov.kw
Elevators manufacturer Otis, a subsidiary of United Technologies Corporation, has secured a contract to supply 190 elevators for the $4.3 billion second passenger terminal at Kuwait International Airport (KWI). UK architecture firm Foster + Partners designed the terminal, which is being built across 70.8ha by Turkish-based Limak Insaat and local construction company Kharafi National.
Under the contract, which was awarded by Limak Insaat Kuwait, Otis will deliver 171 Gen 2 and 19 heavy-duty elevators with capacities to move up to 5,000kg and up to 10 tonnes respectively. The units feature Otis technology such as Regen Drive, Gen 2 flat-coated steel belts and Pulse monitoring systems. Upon completion, the terminal will serve a new regional air hub in the Persian Gulf. It will initially accommodate 13 million passengers per year, with the flexibility to increase to 50 million passengers under future development.
---
OMAN
Project: Medical City Construction in Barka Region
Value: USD 1,240,000,000
Client: Ministry of Health
Website: www.moh.gov.om
Oman's health ministry has announced plans to build the sultanate's first medical city over a sprawling 5-million-sq-m area in the Barka region. The project, being developed at a cost of RO479 million ($1.24 billion), is yet another initiative under the country's Tanfeedh programme for economic expansion, which aims to wean the country away from primarily oil-and-gas-based sources of income.
The country's ambitious healthcare project, the Medical City is being built in four phases. The first two phases will focus on commercial operations, private medical facilities, and residential projects, while the other phases will be allocated for government use.
---
UNITED ARAB EMIRATES
Project: 250mw Hydroelectric Power Station
Value: USD 523,000,000
Client: Dubai Electricity and Water Authority (DEWA)
Website: www.dewa.gov.ae
A group led by Austrian builder Strabag SE has won a EUR-340-million (USD 373 million) contract to construct the 250-MW Hatta pumped storage power plant in the emirate of Dubai. The Dubai Electricity and Water Authority (DEWA) has contracted Strabag to design, build and commission the facility in the Hajar Mountains. The Austrian firm will make a turbine shaft with a diameter of about 36 metres and a depth of nearly 70 metres to house two 125-MW Francis-type pump turbines. Strabag's share of the total award is 35%, equal to EUR 118 million.
The other members of the consortium are compatriot plant engineer Andritz AG, which will supply the entire electro- and hydro-mechanical equipment for the two turbines, and Turkish construction company Ozkar Insaat. Andritz's share of the contract amounts to EUR 100 million. The startup of the plant is scheduled for the first quarter of 2024. This will be the first such project on the Arabian Peninsula.
---
SAUDI ARABIA
Project: Unayzah Gas Reservoir Storage Project in Hawiyah
Value: USD 500,000,000
Client: Saudi Arabian Oil Company (ARAMCO)
Website: www.saudiaramco.com
The EPC contract is expected to be awarded by second week of December 2019, and the project is slated for completion and commissioning by fourth quarter of 2022. The client had pre-qualified Samsung Engineering, Hyundai Engineering and Construction Co, Technip, JGC Corporation and Daelim Industrial Co for the project but Daelim declined to participate in the tender.
Saudi Aramco is planning to construct an underground sales gas storage facility with a storage capacity of 1,500 million standard cubic feet per day (MMSCFD) expandable up to 2,000 MMSCFD. Worley Parsons is the front-end engineering and design (FEED) study consultant for the project.
---
OMAN
Project: Iron Industries Complex
Value: USD 500,000,000
Client: Saudi National Steel Factory
Website: www.sns-sa.com
Saudi Arabia's National Steel Company has signed an agreement with Salalah Free Zone Company (SFZ) to build Oman's largest iron industries complex with an estimated investment of $500 million (SAR 1.8 billion) in Salalah Free Zone. Construction of the new iron industries complex, which will create 500 direct jobs, will begin in the first quarter of 2020.
The complex will have a capacity to manufacture 150,000 tons of iron products and will use latest technology and engineering designs to reduce construction costs by up to 20 percent. More than 65 percent of the factory's production will be exported to the regional markets as the plant will produce various steel products that are used in the manufacture of refrigerators, generators, panels, steel roofs, and heavy structures for large commercial and residential buildings.
---
UNITED ARAB EMIRATES
Project: Al Maryah Vista
Value: USD 136,000,000
Client: Mubadala Investment Company PJSC
Website: www.mubadala.com
Privately owned Webridge Properties, in partnership with Mubadala Investment Co, has launched the first freehold residential project in Abu Dhabi's financial free zone. Abu Dhabi this year has made changes to its real estate laws allowing foreign investors to own freehold property in designated zones. The 22-storey Al Maryah Vista with 772 apartments is aiming to tap demand for studios, one- and two-bedroom apartments on the island. With an investment outlay of 500 million dirhams ($136 million), the project will be completed by the second quarter of 2023.