SAUDI ARABIA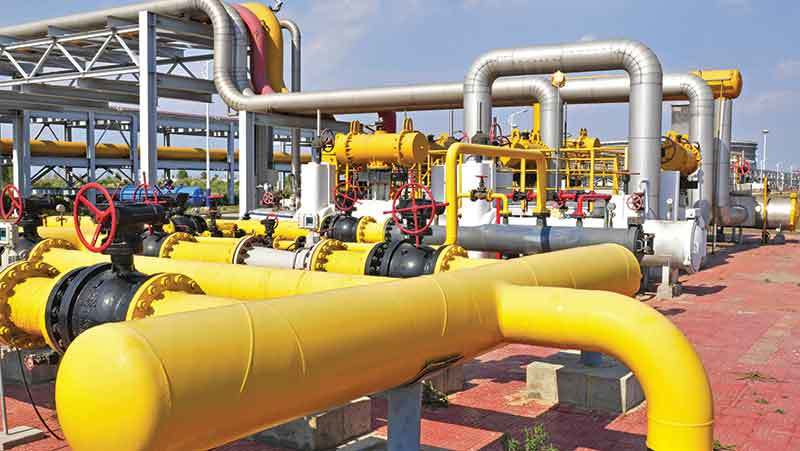 Project: Marjan Oil Field Expansion
Value: USD 7,000,000,000
Client: Saudi Aramco
Website: www.saudiaramco.com
Saudi Arabian Oil Company (Saudi Aramco) is planning the expansion of Marjan offshore oilfield in Saudi Arabia. The project involves the construction of a 300,000 barrels per day (bpd) gas/oil separation plant, a greenfield gas processing plant, a co-generation facility, platforms, laying of gas pipelines and modification to existing facility to add natural gas liquids fractionation capacity.
The Marjan project will boost the field's output by 300,000 B/D of Arabian Medium crude and 2.5 Bscf/D of gas with the construction of an offshore gas-oil separation plant and 24 offshore oil, gas, and water injection platforms. The company plans to expand its Tanajib onshore oil facilities and build a new gas plant to include gas treatment and processing, natural gas liquids recovery and fractionation, and gas compression facilities.
The second package includes 200 kilometres of subsea pipelines across 21 segments and 150 kilometres of subsea cables across 15 segments, as well as three tie-in platforms and nine oil wellhead platforms. Meanwhile, the third package involves a gas cap production network and other tie-ins and wellhead platforms, for the production of non-associated gas and gas cap injection.
The Marjan contractors are required to prioritize material and equipment procurement from local suppliers and manufacturers in support of Saudi Aramco's goal to increase its locally-sourced goods and services to 70% by 2021.
---
SAUDI ARABIA
Project: Construction of Three Chemical Plants
Value: USD 2,000,000,000
Client: Ineos
Website: www.ineos.com
Ineos is to spend $2 billion building three chemicals plants in Saudi Arabia, heralding the first investment in the Middle East by the business controlled by British billionaire Jim Ratcliffe. The privately owned group will construct the facilities at a vast petrochemicals complex being developed in the oil-rich kingdom.
The Amiral petrochemicals project, a $5 billion joint venture between state-owned Saudi Aramco and French energy group Total announced last year, will supply the feedstock to the new Ineos plants. Ineos has signed a memorandum of understanding with both companies.
Saudi Aramco, the world's largest oil exporter, has been investing heavily in refining and petrochemicals as it seeks to reduce its reliance on foreign crude sales that also deliver the bulk of government revenues.
---
UNITED ARAB EMIRATES
Project: Cruise Terminal Project at Dubai Harbour
Value: USD 100,000,000
Client: Meraas Holding
Website: www.meraas.com
Dubai will build the region's most advanced cruise terminal at Dubai Harbour as cruise tourism gained momentum in line with the government policy under which maritime tourism will contribute Dh1.5 billion to the emirate's economy by 2030.
Meraas Holding in partnership with Carnival Corporation, the world's largest leisure travel company, appointed ASGC to construct the new Dubai Cruise Terminal that will create a unique entry experience to all cruise ship passengers who arrive in the emirate.
The terminal, located between Bluewaters and Palm Jumeirah, will have the capacity of accommodating complete passenger turnaround of two mega cruise ships concurrently, accounting to over 15,000 guests at its 300,000 square feet combined floor area.
Work conducted by ASGC on the project will include the construction of two main cruise terminal buildings strategically positioned on a quay of approximately 1 kilometre, in addition to service buildings, a central unit building, external works, and all fixtures, fittings and equipment.
---
OMAN
Project: Salalah Refinery Project
Value: USD 2,500,000,000
Client: Salalah Free Zone (SFZ)
Website: www.sfzco.com
The agreement was signed by CEO of Salalah Free Zone and by CEO of Salalah Refinery. The refinery will be instrumental in creating 600 job opportunities and will contribute significantly to the national economy.
The project will also provide business opportunities to vital sectors, such as services and support services. The refinery will supply liquid cargo to be handled through Salalah port, making it one of the most important refineries in the Middle East. The SFZ has succeeded this year in attracting foreign investments that will contribute to supporting the national economy and creating direct employment opportunities for citizens.
---
UNITED ARAB EMIRATES
Project: Al Ain Zoo Conservation Projects
Value: USD 42,000,000
Client: Abu Dhabi General Services Company - Musanada
Website: www.musanada.com
Musanada will spend $8.2 million (AED30 million) on the Reptile Park project, which will span 11,500m2. The project will require Musanada to demolish Al Ain Zoo's existing Reptile House and replace it with the new structure, which will include indoor and outdoor exhibits.
Meanwhile, the $25.5 million (AED93.5 million) Elephant Safari project will see Musanada construct a natural safari exhibit for visitors across an area of 1.7ha, creating a habitat for 15 African elephants. The safari will be connected to the existing Al Ain Safari and the Lions Exhibition.
Musanada is spending $4.8 million (AED17.8 million) to build Gorilla Sanctuary, which spans 8,725m2 and also involves the demolition of a structure that will be replaced by exhibition courts and wooded areas, along with facilities for five female and one male gorillas. The $2.9 million (AED10.7 million) Sand Cat Conservation Exhibit will entail the construction of an exhibit, along with visitors' corridors and electromechanical system improvements.
---
BAHRAIN
Project: Bahrain Metro Rail Project
Value: USD 2,000,000,000
Client: Ministry of Transportation and Telecommunication
Website: www.mtt.gov.bh
The project will feature a 184 km network made up of six lines and is being implemented in four phases. In the first phase, two lines running 30 km will be built covering 20 stations. The successful bidder will consult on the financial, technical and legal documents that will accompany the tender of the design, construction, and operation of phase one of the development. Al Zayani Engineering, KPMG, and PwC have been shortlisted to assist in the delivery of a $2 billion project that forms a component of the kingdom's Public Transport Masterplan 2030.
---
UNITED ARAB EMIRATES
Project: Umm Al Quwain Desalination Plant
Value: USD 900,000,000
Client: Federal Electricity & Water Authority (FEWA)
Website: www.fewa.gov.ae
The UAE's Federal Electricity & Water Authority (FEWA) agreed the deal with Saudi Arabia's ACWA Power and MDC Power Holding Company LLC, a subsidiary of Abu Dhabi's Mubadala Investment Company. FEWA will hold a 20% stake while ACWA Power and Mubadala will each own 40%. The government of Umm Al Quwain will join as a partner and own a stake at a later date in the 150 million gallons per day plant. Construction will start in the second half of 2019, with initial water production scheduled in 2021.
The project is FEWA's first asset in partnership with the private sector and will reinforce the UAE's water security strategy. Once commissioned, the plant will be the largest desalination project in the northern Emirates.
---
BAHRAIN
Project: New Retail Complex in Seef District
Value: USD 26,600,000
Client: First Bahrain Real Estate Development Co. K.S.C. (FBREDC)
Website: www.firstbahrain.com
First Bahrain Real Estate Development Company has appointed Alghanah Group for the construction of its upcoming retail project in Seef area of the kingdom. Building on the success of El Mercado, the company is now activating its holdings in the Seef area with another open-air commercial project. The new development is the first phase of a project which will feature over 79,000 sq ft of premium retail space, built on 114,000 sq ft of land just across the street from the City Centre Mall. Designed to serve the surrounding residential area, the site will feature a mix of cafes, restaurants, entertainment, and retail shops that will offer a unique experience through a mix of drive-up and drive-thru outlets featuring terraced views and outdoor seating.